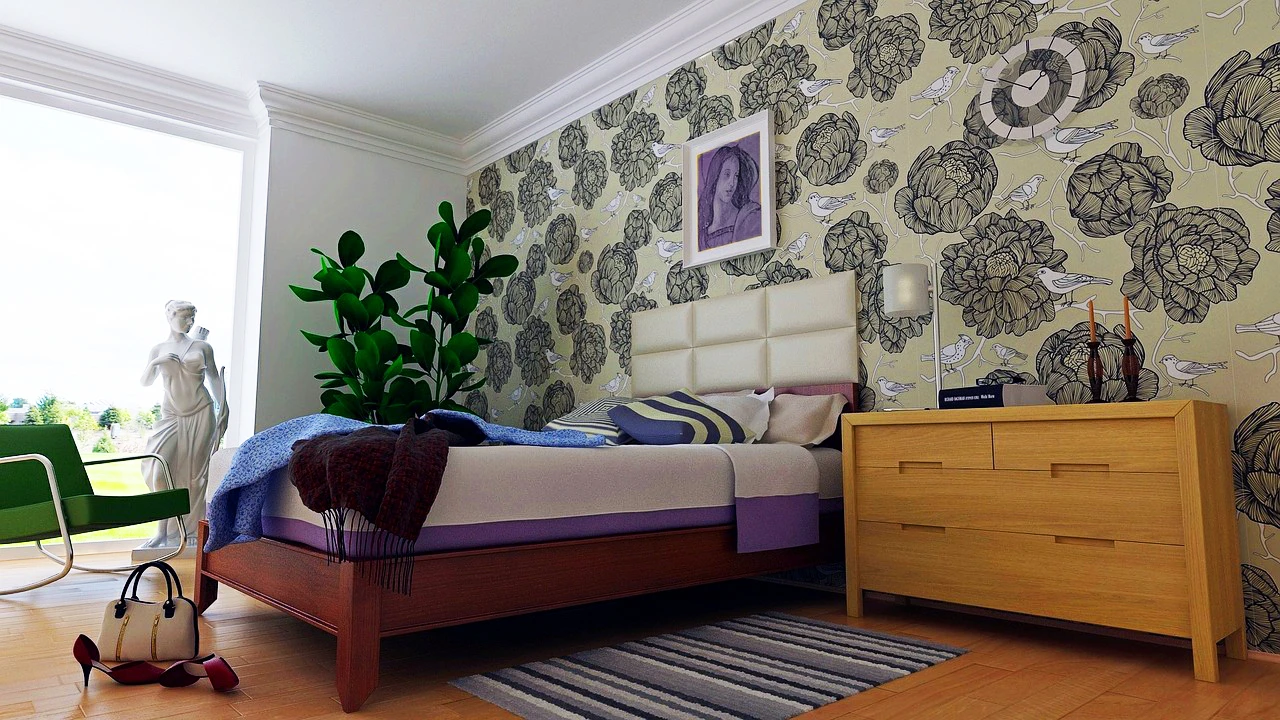 Beyond painting, Arch is proud to offer other residential and commercial services, including wallcovering installation.
Wallcoverings are popular in commercial settings like assisted living facilities and hotels, but the possibilities don't end there! They are a great way to add texture and character to just about any space. Whether you have a historic home or a chic modern apartment, a mom-and-pop shop or a multi-million dollar company, there are so many ways to incorporate fun home interior design elements into your property. Inspiration is absolutely everywhere. So, here are 7 ways to use wallcoverings in your home and workplace.
Living Room
Want to add dimension to your living area? Something like this subtle gray wallcovering adds pattern without being overwhelming, so you can get more creative with vibrant accent furniture and bold statement decor.
Bedroom
Feel like you're staying in a luxurious hotel room every night with a dark wallcovering like this one. Choose one with a subtle pattern and rich color to create a no-maintenance statement wall in your bedroom.
Office
Whether you run a business from your home or need a modern space to meet with clients, a classic, neutral wallcovering like this one can give your office a sophisticated feel. You might even want to consider getting office chairs that match your walls. Moreover, coordinating your office furniture creates a calm and cohesive atmosphere that can help you to stay focused.
Kitchen
Forget about an expensive tile backsplash, and go for a chic wallcovering like this marble pattern. It will instantly upgrade your kitchen, and save you a bundle of time and money. If you have the budget and it's necessary, get in touch with a kitchen designer who can suggest more upgrades to make the space look more stylish yet inviting.
Bathroom
Bathrooms can be expensive to renovate, but by adding a sleek, textured wallcovering to the existing space, you can quickly and easily update any bathroom at your office or in your home.
Gyms or fitness area
You might not think your home or office gym needs to be anything special. But using a patterned wallcovering to create a statement wall can make your fitness area so much more appealing. It's also a timeless investment if you think you'll turn the space into something fun (like a den or wine cellar) in the future!
Hallways
Hallways are often overlooked, whether in residential or commercial settings. Instead of rushing to fill this blank wall space with artwork or photos, consider taking a modern approach with an understated wallcovering like this one.
Ready to get your free estimate?
Click her
e to get in touch with Arch Painting today!