If you are looking to add taste and style to your lobby, one option you should consider is an accent wall. In any commercial environment, you want to create an area that looks professional while also branding your business exceptionally well. This is exactly what an accent wall can achieve. With that being said, continue reading to discover more about using an accent wall to enhance your commercial lobby area.
What is an accent wall?
An accent wall is an interior or exterior wall that can have a different color, material, design, or shade when compared with the other walls around it. Take a standard, square shape living room as a prime example. If three of the walls are beige, yet one wall is painted a bright orange shade, the orange wall would be known as an accent wall.
Why are accent walls so popular?
There are a number of different reasons why accent walls have become so popular. An accent wall gives you an easy and effective way of adding more color to a room, bringing individuality and variety. For businesses, this is an excellent way of adding personality and bringing your brand to life.
An accent wall also gives you an effective way of using a bold color in your lobby without overwhelming the room. For example, let's say you want to paint your accent wall bright orange. If you were to paint the entire lobby this color, it would be too overpowering and possibly headache-inducing. Instead, one wall of orange will make a big impact without being too dominating in your lobby area.
Accent walls are also popular because they create a focal point in the room. There are a lot of different ways that you can use this to your advantage. For example, you could seat receptionists in front of the accent wall. Alternatively, you could also add a mural to the wall to brand your business effectively. The options are endless but there is no denying that when someone enters the lobby, their eyes are going to be drawn to the accent wall.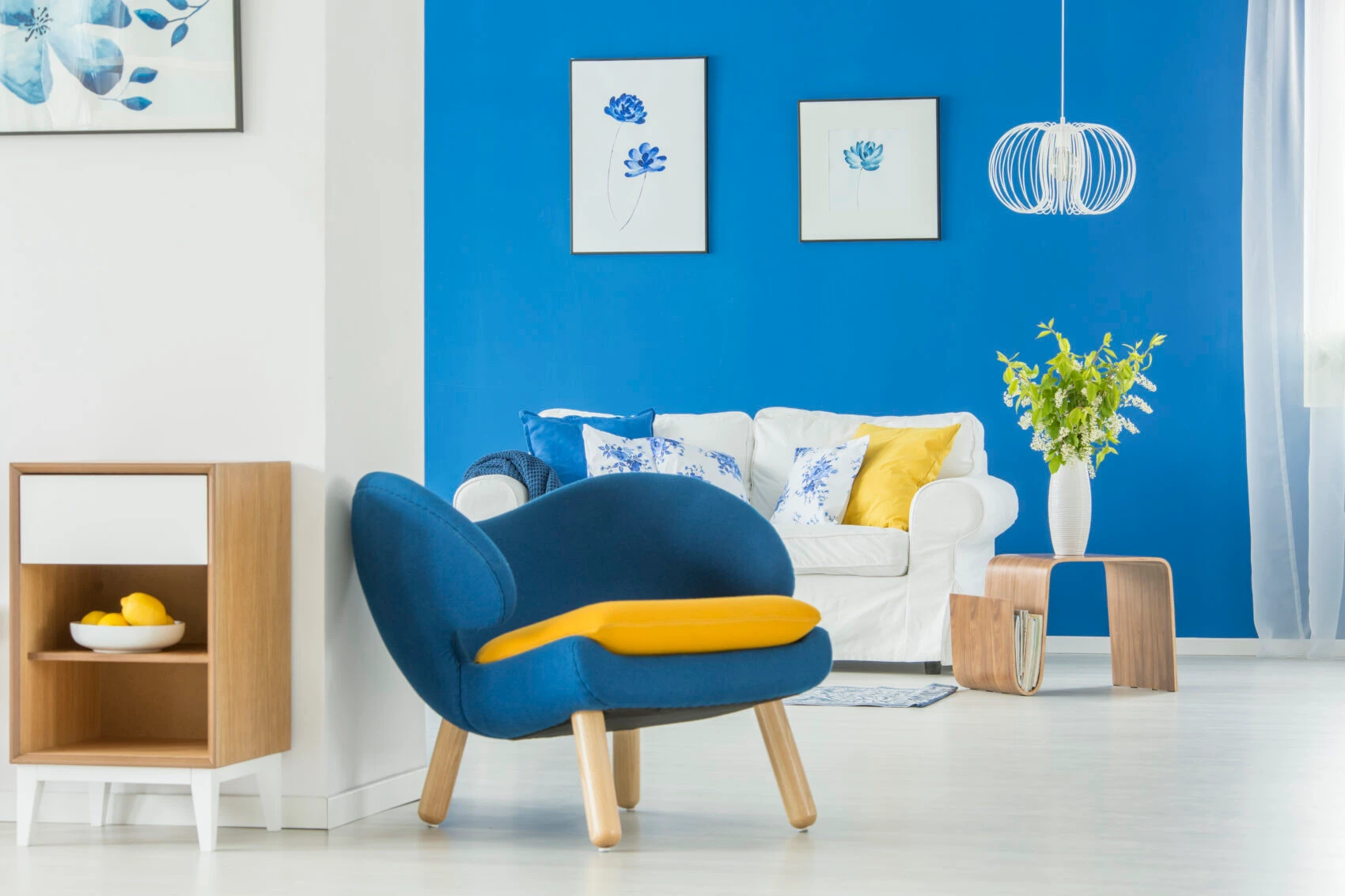 Creating a lobby that reflects your brand
Now that you know what an accent wall is, let's take a look at the lobby and why it plays a pivotal role in terms of your brand image and the sort of environment you want to create.
When you walk through the front door of any company, you get a sense of the culture of the business straight away. The flow, floor coverings, furniture, signage, lighting, and colors used all say something about your business. This is why it makes sense to team up with a commercial interior painting company that can ensure that your lobby is inspiring and professional.
The lobby, in particular, presents your business with a great chance to communicate your sense of self. Show your customers and your employees what you believe in and what you are trying to achieve. Your lobby can tell a story; it is a place for customization and differentiation.
If your lobby is drab, and the space feels neglected or it does not match the vibe of your business's personality, this is an opportunity you have missed. Even worse, it can be a disadvantage to your business. Your lobby can end up being a turnoff for prospective employees and potential customers because you have not communicated your strengths and vision effectively.
The appearance of your lobby is just as critical for your employees as it is your customers
Not only does the appearance of your lobby matter in terms of the impression you give off to your customers but it also makes a difference to your employees.
A lobby that looks professional and is well-designed can instill a sense of connection and pride. It can remind your employees of the objectives that they are working toward. It can also help to foster engagement during a period whereby disengaged office workers are outnumbering employees who are engaged.
If your workforce is disengaged, it can cost you a lot of funds, as well as undermining your business goals, drains resources, and slows projects.
In addition to this, an excellent lobby can facilitate creativity and productivity. Increasingly today, your lobby is not just a waiting area for potential clients and visitors. Instead, it is becoming a space that can double up as a touchdown area for mobile workers or a breakout area.
No matter the design, the lobby needs to put forward a genuine experience of the brand.
Painting your lobby
When it comes to painting your lobby, you need to ask yourself whether your choice and style of paint portray an accurate picture of the brand. Does it send the right message? Does it create the right move? Does it create a meaningful connection with those who walk through the front door?
When painting your lobby and creating an accent wall, it is important to choose a color that represents your brand effectively. Select a prominent shade that will stand out and represent your business well. Some companies even have their own custom color created so that they can use this to represent their brand.
You also should not be afraid to think outside of the box when it comes to accent walls for your business. You are not limited to choosing a single paint color and going for a black shade of it. There are plenty of other ways that you can use paint to create an impressive commercial space. For example, you may want to opt for a specialty paint finish or a pattern, like stripes. Metallic paint provides you with a great way of making a powerful style statement in your home. The possibilities are endless when it comes to creating a sleek and stylish accent wall for your commercial environment.
You may also want to think about painting the rest of your lobby as well. The color of the paint that you have in the room now may not really work well when it comes to adding an accent wall to the design. It makes sense to keep the rest of the room neutral and then to use a bright or bold color for the accent wall. If the color of the lobby does not really go with the shade of accent wall that you desire, painting the entire lobby can make a lot of sense. Plus, you want to make sure the entire room has a sleek finish, rather than one wall looking a lot fresher than the rest.
You also should not shy away from bold colors. So long as the accents in the room are right so that they coordinate well with the new color, it will work well together. Of course, you will want to make sure that your choice is on-brand and works very well with the sort of industry you work in and the customers you are dealing with.
Create a wall that brands your business
You may want to consider creating a "brand" wall, for example, you could choose a dark shade of paint and then you could add some metallic wall art that states your business name, such as a metal sign that's finished in gold. This can work especially well if you have some sort of reception area within the lobby. But even if you don't, a branded wall like this can make a big impact. The key here is to make sure you do not have many other things around the wall, which can end up making it appear rather distracting instead of packing the powerful punch that you are looking for.
Use a professional commercial painting company for your accent wall
As you can see, there are a lot of benefits that are associated with adding an accent wall to your lobby area. Not only do they look amazing but they work wonderfully in terms of branding your business and creating the perfect atmosphere. Plus, the options are endless.
However, if you want to experience all of the benefits that come with having an accent wall in your home, it is important to use the services of an experienced team of commercial painters. After all, you want to make sure the final job is one that is professional and looks amazing. The last thing you want is a shoddy paint job that will end up reflecting badly on your brand image!
A lot of people think that painting is as simple as opening a tin of paint and brushing it on the walls. If only that was the case! There is a lot that needs to be considered. You need to make sure that you treat the walls beforehand and that the right type of paints are applied. From adding different treatments to power washing the walls, there are lots of different steps that may need to be taken before the painting begins, depending on the current condition of the wall.
It is also important to consider the fact that not all of the paints available for sale today are considered safe for clients and staff members. Some can feature toxic gases and chemicals, which could cause harm to the individuals working within your commercial building. However, if you select a high-quality commercial painter, you will know that they have the experience and knowledge to provide you with the safest quality paint.
You will also save a considerable amount of money and time when you work with a professional painting firm. They will not get in the way of your work schedules. Instead, they work around them. Here at Arch Painting, we know the importance of working in a quick and efficient manner, carrying out a high-quality job in a short space of time. We never cut corners but we always make sure that you are not inconvenienced when carrying out one of our painting services.
Final words on enhancing your lobby with an accent wall
So there you have it: everything you need to know about enhancing your lobby area with an accent wall. This is a great way of creating a beautiful yet professional environment at your business premises. However, it makes sense to team up with experienced commercial painting companies who can help you to create the sort of environment and style you are aiming for.
If you have any queries about this, please do not hesitate to get in touch with us today for more information. We have many years of experience and we will be more than happy to assist you in any manner we can. You can also check out our commercial painting reviews to get a better understanding of the level of service that we provide.