Transform your home's exterior with the latest trends in exterior paint color ideas for 2023! Whether you're looking for a bold statement or a subtle change that keeps things classic, this guide has you covered with a variety of fresh, stylish options. Let's dive in and explore the exciting world of exterior paint colors!
Short Summary
Embrace nature & make a statement with your exterior paint color choices.
Achieve timeless elegance and bold beauty through warm whites, creams, dark blues, and vibrant greens.
Invest in quality products, plan ahead for weather considerations, and maintain your home's exterior to boost its curb appeal and value.
Embrace Nature with Earthy Tones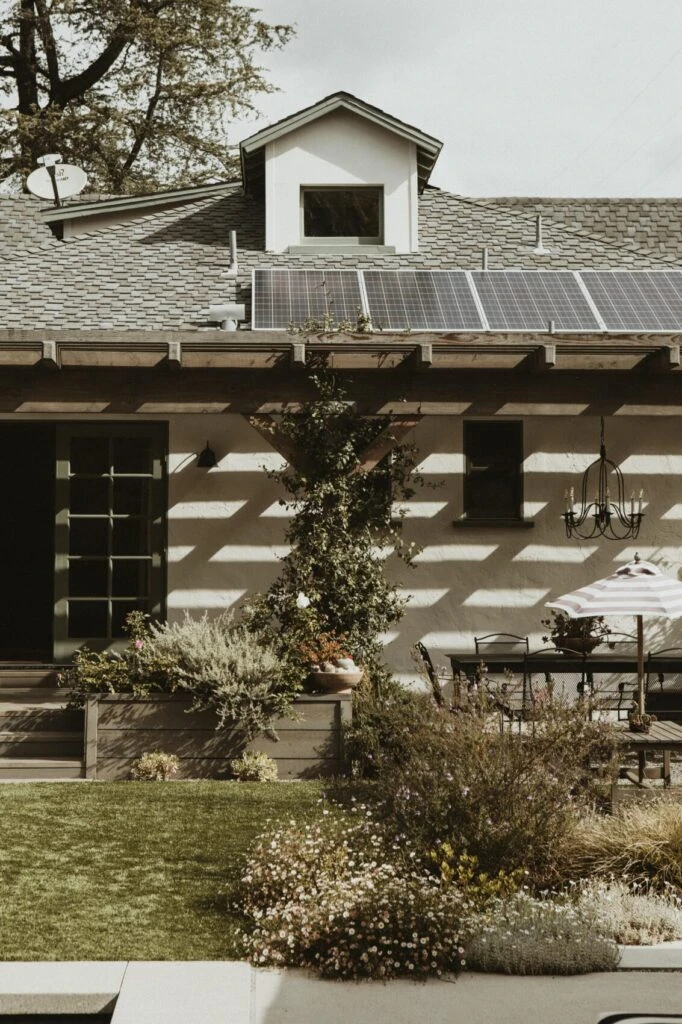 Earthy tones, such as taupe and sage green, are popular exterior paint colors for 2023, and for good reason! They blend beautifully with natural surroundings and create a tranquil atmosphere that makes your home a calming oasis in the midst of a bustling neighborhood. Among these earthy tones, you'll find thrilling colors seen in nature, such as vibrant greens, rich browns, stunning blues, and even some bold reds.
The soothing, tranquil atmosphere created by these colors is especially noticeable when they have green undertones. Top brands offer numerous earthy tone options to suit various home styles and preferences. Consider a neutral shade with beige undertones for a timeless feel, or opt for a color scheme that blends seamlessly with your surrounding landscape.
No matter your choice, earthy tones are a fantastic choice for 2023.
Classic Elegance: Warm Whites and Creams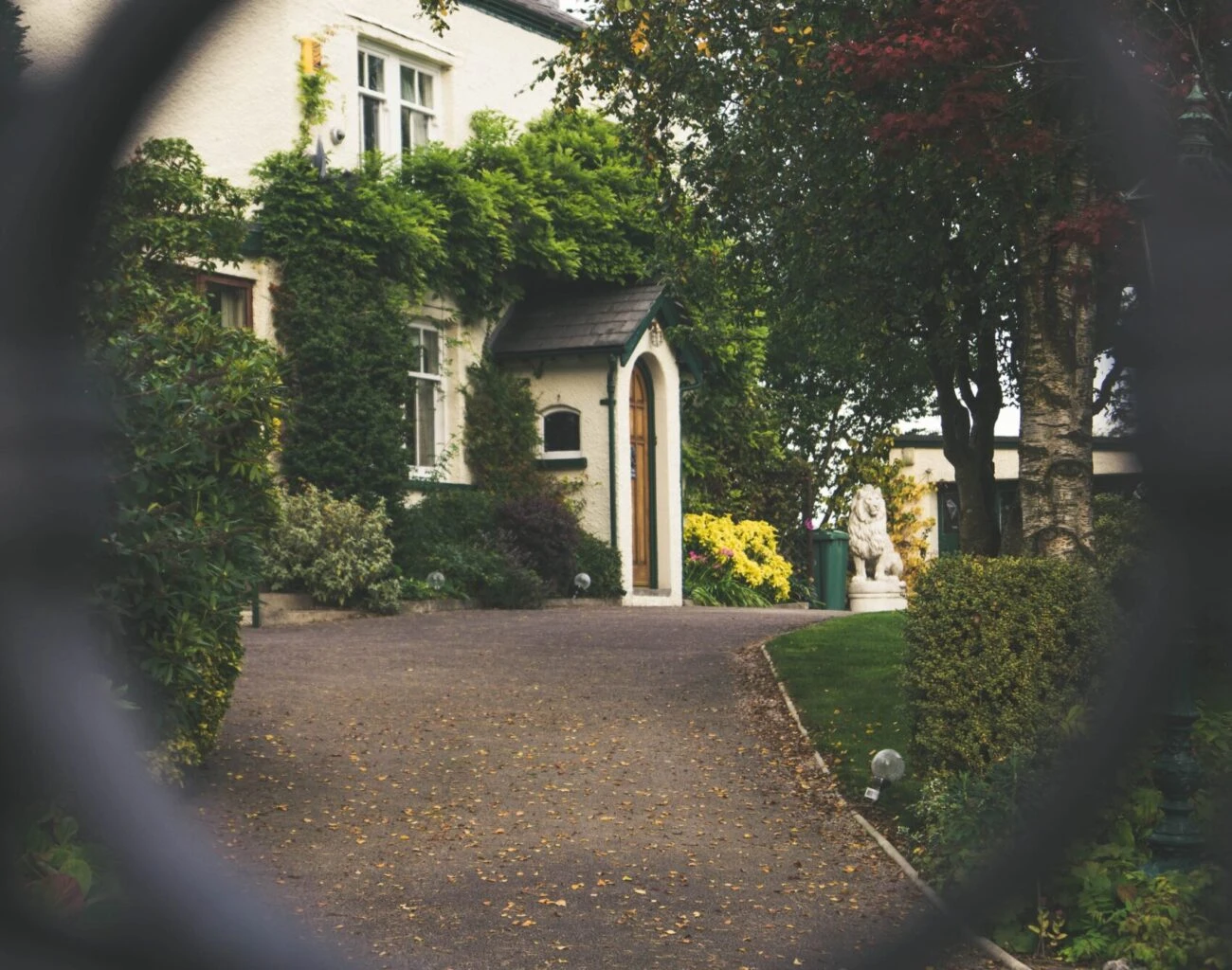 Warm whites and creams offer a classic and elegant look for home exteriors, providing a timeless and inviting feel. An elegant white house with black shutters is a timeless choice for an exterior color, and it never goes out of style. But if you're looking for something a bit different, deep blue can also create a stunning effect.
Some exciting examples of warm whites and creams used in home exteriors include light gray shades. These colors pair nicely with a variety of architectural details, such as brick chimneys and black shutters, creating a perfect balance between classic elegance and on-trend design.
So, whether you prefer a pure white exterior or a warm off-white with beige undertones, these classic colors are sure to give your home a timeless feel.
Bold and Beautiful: Dark Blues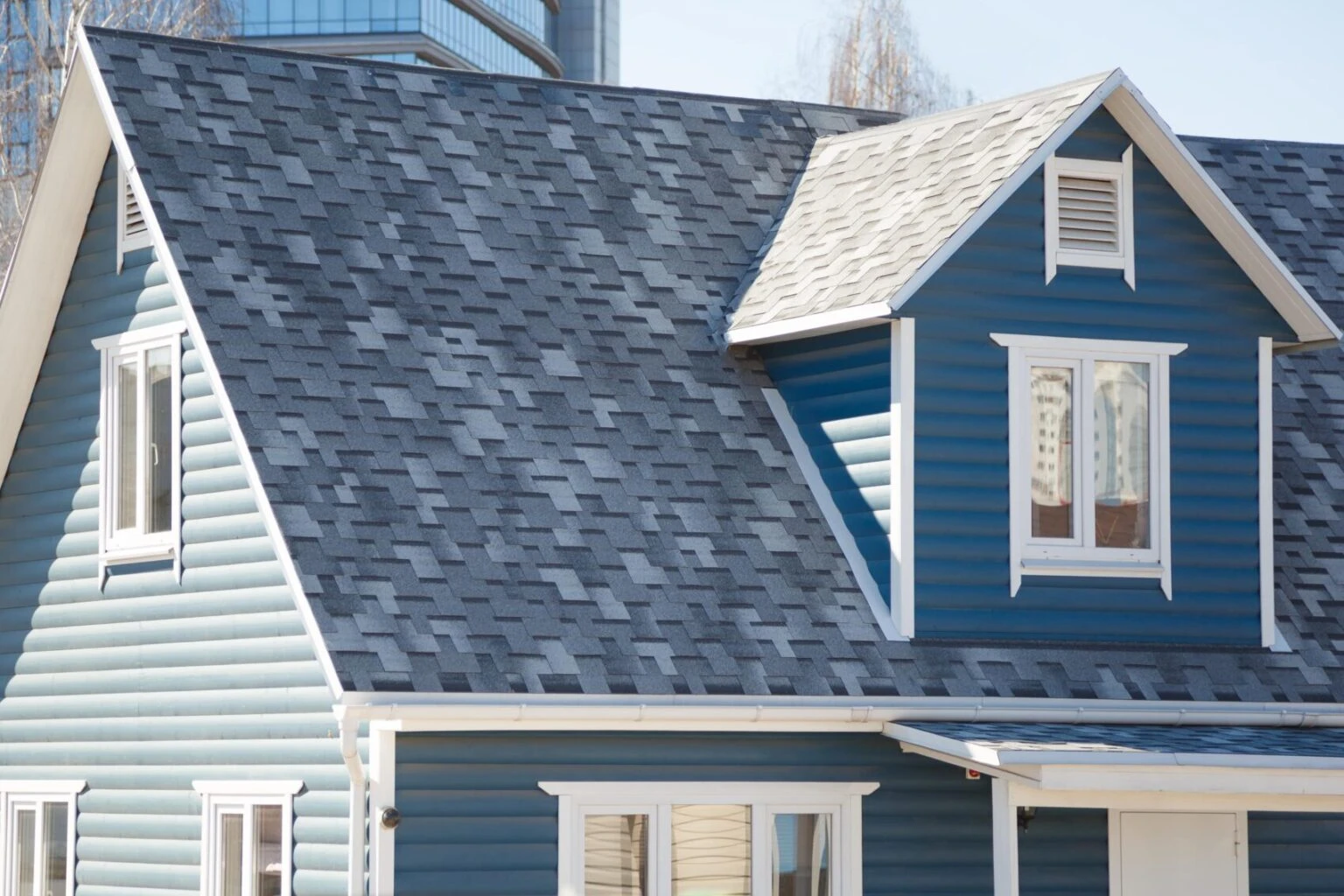 Dark blue exterior paint colors, like navy blue and slate blue, are bold and beautiful choices for 2023, adding depth and sophistication to any home style.
To create a truly eye-catching exterior, consider pairing dark blue siding with rich yellow or natural wood textures, especially when combined with bright white trim. Light and/or bright design elements, like off-white and natural red brick, also pair wonderfully with deep charcoal paint. Navy can read more dark gray when paired with even darker hues, giving your home a modern twist on classic color schemes.
Make a Statement: Vibrant Greens
If you're looking to make a statement with your home's exterior, vibrant greens, like emerald and lime, are the way to go. These bold colors accentuate your home's landscaping and greenery, making it stand out in the neighborhood and adding an element of excitement to your curb appeal.
Darker exterior house color shades, in particular, are incredibly flattering to greenery and can really accentuate flowering plants. So, if you want your home to be surrounded by lush, vibrant greenery, consider opting for a statement-making, vibrant green exterior paint color.
Modern and Sleek: All-Black Exteriors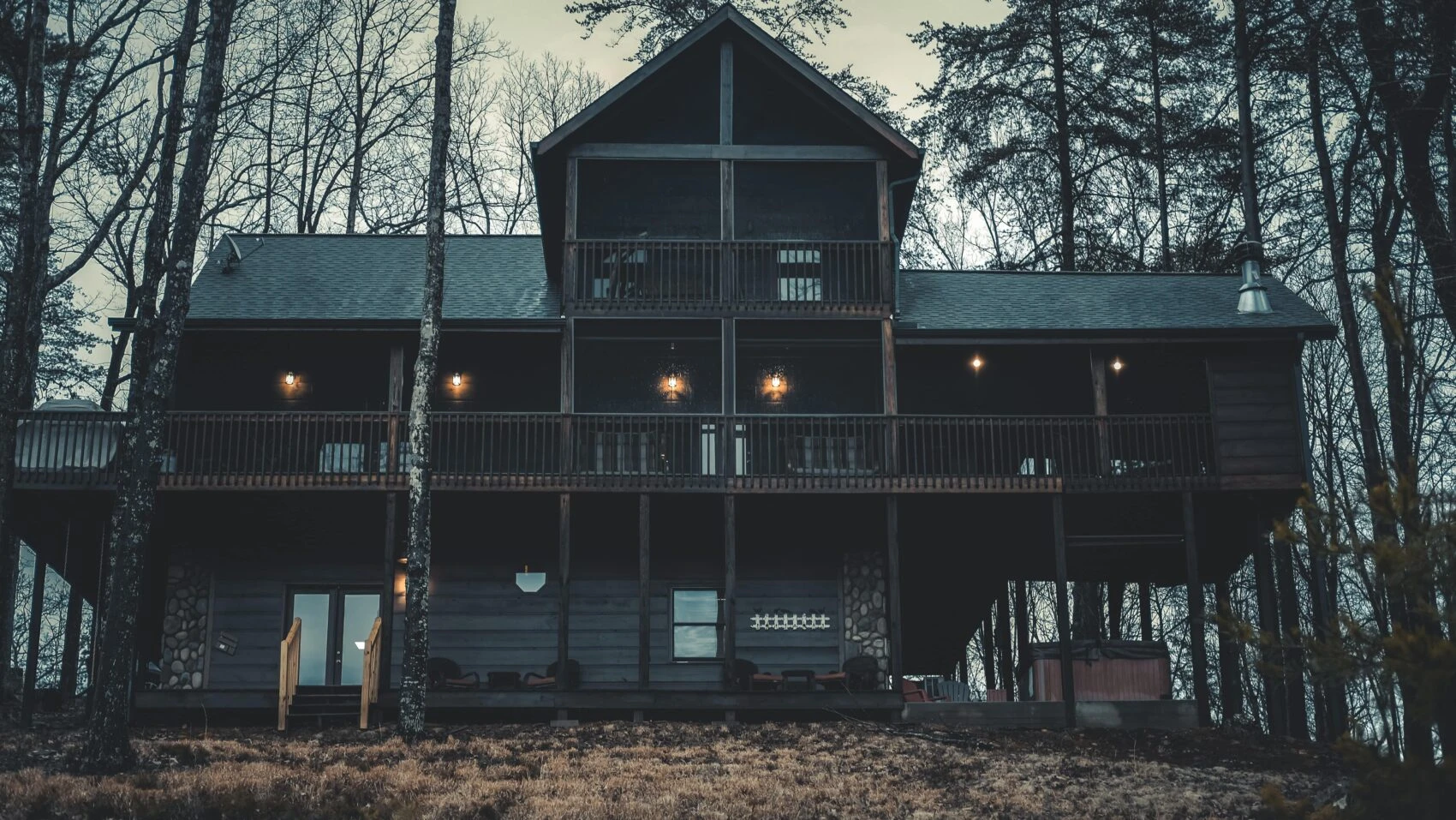 All-black exteriors are a modern and sleek trend for 2023, giving homes a contemporary and dramatic look. The use of deep charcoal can transform the appearance of your home's exterior.
When choosing a black exterior paint color, it's important to consider factors like the amount of natural light your house receives. For example, if you choose a black exterior, make sure your house receives plenty of light to prevent it from appearing too dark and gloomy.
Soft and Delicate: Pastel Pinks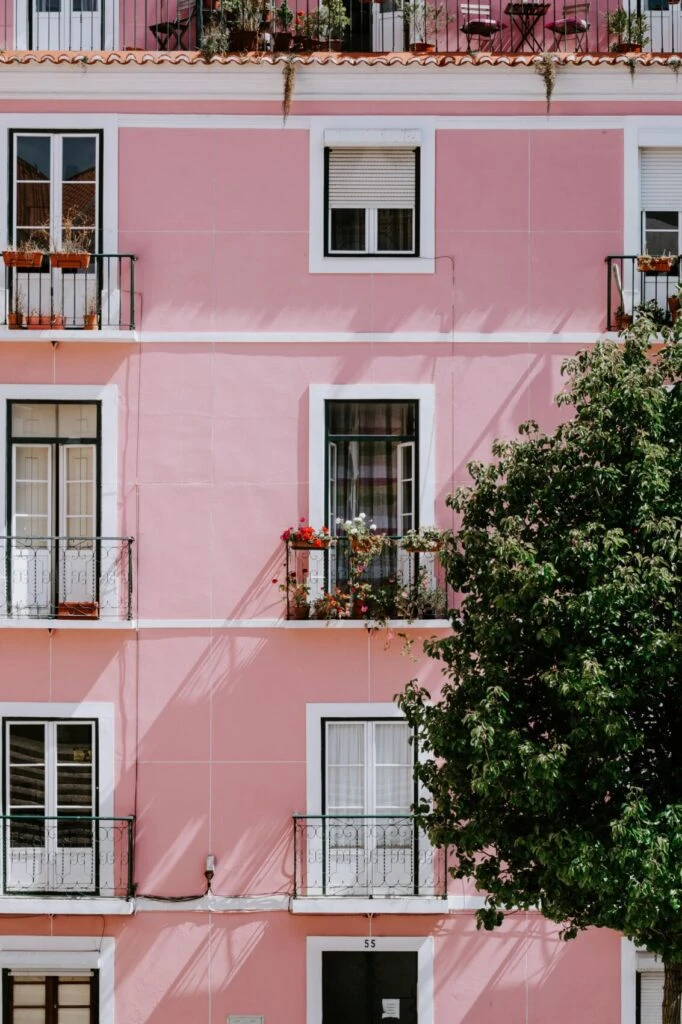 For those seeking a soft and delicate touch for their home's exterior, pastel pinks, like blush and rose, offer a charming and romantic option. These colors can add a hint of whimsy and charm to your home, making it feel warm and inviting. Though pastel pinks may not be the first color choice that comes to mind when considering exterior paint colors, they can provide a unique and memorable look for your home. With the right color combination and accents, pastel pinks can create a dreamy and enchanting atmosphere that sets your home apart from the rest.
Choosing the Perfect Color Combination
Choosing the perfect color combination for your home's exterior involves considering factors like your home's style, surrounding environment, and personal preferences. By taking these factors into account, you can create a color palette that complements your home and enhances its curb appeal. For example, if your home is in a wooded area, earthy tones that blend seamlessly with the natural landscape may be the perfect choice.
To ensure you select the best color combination for your home, consider swatching your paint colors to see how they look in different lighting conditions and against your home's exterior features. This can help you avoid choosing the wrong paint color and ensure that your exterior paint job looks fantastic for years to come.
The Importance of Proper Preparation
Proper preparation, including cleaning, power washing, and repairing surfaces, is crucial for a successful exterior paint job and long-lasting results. This means taking the time to thoroughly clean your home's exterior, remove any loose or peeling paint, and repair any damaged areas before applying a fresh coat of paint. By doing so, you'll ensure that your new paint adheres properly and looks its best for years to come.
In addition to surface preparation, if you're planning on painting your home yourself, it's important to follow safety protocols when painting the exterior of your home to avoid injury, loss of work time, and unwanted medical bills.
Weather Considerations for Exterior Painting
Weather conditions, such as temperature and humidity, play a significant role in exterior painting projects and should be taken into account when planning. For example, it's best to avoid painting in low temperatures below 40 degrees Fahrenheit, high humidity, or rain, as these conditions can negatively impact the paint's ability to dry and adhere properly.
To ensure the best results, try to plan your exterior painting project during a time when the weather is consistently warm and dry. This will allow the paint to dry properly and help prevent any issues with adhesion or durability. By keeping weather conditions in mind, you can ensure a successful and long-lasting exterior paint job.
Investing in Quality Products
When it comes to exterior paint, investing in high-quality products is essential for achieving a professional finish and longer-lasting results. This means choosing exterior paint brands that are known for their durability and performance or by highering painters who value high-quality. By investing in quality products,supplies, or services, you can ensure that your exterior paint job looks its best and lasts for years to come.
DIY vs. Hiring a Professional
Deciding between a DIY exterior paint job or hiring a professional depends on factors like budget, time constraints, and personal skill level. If you're confident in your painting abilities and have the time and resources to devote to the project, a DIY paint job can be a rewarding and cost-effective option. However, if you're unsure of your skills or simply don't have the time to dedicate to the project, hiring a painting professional may be the best choice.
In either case, it's important to follow proper preparation and safety procedures to ensure a successful and long-lasting paint job. By carefully considering your options and weighing the pros and cons of each, you can make the best decision for your home's exterior paint project whether you choose to do it yourself or hire an exterior painting company like Arch Painting.
Maintaining Your Home's Exterior
Regular maintenance, such as cleaning and touch-ups, helps keep your home's exterior looking fresh and extends the life of your paint job. This means routinely washing your home's exterior to remove dirt, debris, and mildew, as well as touching up any areas where the paint has begun to peel or chip.
In general, it's recommended to repaint a home exterior every 5 to 10 years, depending on factors such as the type of siding and the local climate. By keeping up with regular maintenance and repainting as needed, you can ensure that your home's exterior remains in top condition and continues to enhance its curb appeal and value.
Boosting Curb Appeal with Color Accents
Boost your home's curb appeal by adding color accents to features like doors, shutters, and trim, creating a visually appealing and personalized look. These accents can help draw attention to your home's architectural details and make it stand out from the rest of the neighborhood. For example, consider painting your front door a bold color that contrasts with the rest of your home's exterior, or adding colorful shutters to enhance your home's charm.
The possibilities are endless when it comes to adding color accents to your home's exterior. By experimenting with different color combinations and accents, you can create a look that is uniquely yours and boosts your home's curb appeal.
Summary
In conclusion, the exterior paint color trends for 2023 offer a wide range of exciting options, from earthy tones and classic elegance to bold blues and soft pastels. By considering factors like your home's style, surrounding environment, and personal preferences, you can choose the perfect color combination to transform your home's exterior and boost its curb appeal. With proper preparation, quality products, and regular maintenance, your home's exterior will look fresh and stunning for years to come. So, go ahead and embrace these top exterior paint trends and make your home stand out in 2023! If you're looking to learn more about how Arch Painting can level up your home's exterior, contact us today.
Frequently Asked Questions
Should exterior paint be light or dark?
When deciding what color to paint the exterior of your home, lighter colors are the better option. Lighter shades reflect heat from sunlight more effectively than darker hues, helping to keep your home cool and reduce energy costs. Plus, they look great!
Make your house stand out with light exterior paint.
What is the most popular color for the outside of a house?
It looks like Bright White is the color of choice for exterior house paint! A neutral, crisp hue is always in style and gives your home a timeless classic look.
What are some popular earthy-tone exterior paint colors for 2023?
This year, try adding a hint of nature with taupe and sage green, two popular earthy-tone exterior paint colors. These subtle colors can give your home an eye-catching look that will last.
How often should I repaint my home's exterior?
With proper maintenance and upkeep, you can ensure that your home looks great by repainting its exterior every 5 to 10 years.