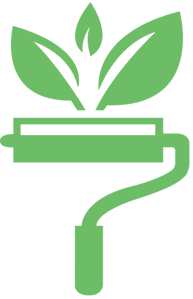 What are Low VOC Paints?
Low VOC Paints are paints that have low or no volatile organic compounds (VOC's), are categorized as environmentally friendly because the emission of VOC's into the air is a type of air pollution. Generally, non-flat paints with no more than 150 grams of VOC's per litre (g/L) of product are considered low VOC, regardless of any lack of certification, such as one from the United States Green Building Council (www.usgbc.org), which rates and certifies projects. The USGBC follows the requirements for paint in GS-11, a regulation of Green Seal, Inc. (www.greenseal.org), a non-profit that provides science-based environmental certification standards.
What is one of the benefits to using Low VOC Paints?
Environmentally responsible products can save you significantly more than the extra cost they may require. In even the smallest commercial job, product cost is a fraction of labor cost – especially if you need the work to be performed after hours or within a tight deadline. Many property owners and managers elect to have work done after hours to avoid affecting the air quality and odor in a confined space. The schedule constraints are often multiplied when late night/early morning or weekend work is limited to a short duration such as a holiday weekend or school vacation.