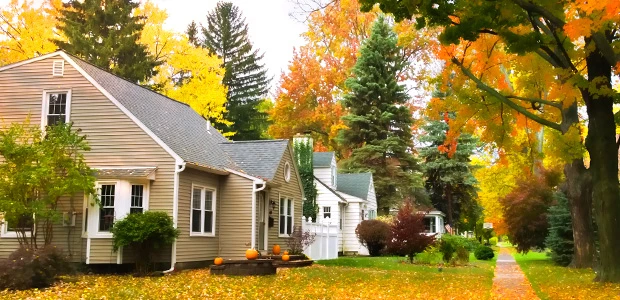 Many people view summer as the best time to paint the exterior of their homes. After all, warm weather makes for a more pleasant atmosphere for an outdoor job. But after a particularly hot summer like this one, you may want to save such a project for fall's more mild temperatures. Fall is an excellent time of year for painting, too—as long as you take all the necessary precautions.
Temperature is a critical variable when it comes to painting, and not just because of how you'll feel standing outside for hours. The chemicals in paint react differently to warmer and cooler temperatures, and this can affect the way the paint sticks to a house and how long it'll stay fresh-looking. If it's too hot, the paint will dry out. If it's too cold, the chemicals in the paint won't bond correctly and the paint may be unable to properly stick to the surface of your house. In order to avoid these issues and more, like clumping, cracking, or chipping, the ideal temperature for exterior painting is between 50°–80° F—unless your chosen brand of paint specifically says otherwise.
Usually, the weather of a New England autumn falls somewhere in the acceptable range for painting. But it's important to do research and preparation before committing. Check the weather ahead of time to assure that temperatures won't fall too low—especially at night. As paint needs time to dry, and colder weather slows the drying process, you'll want to make sure there are a few days in a row where it won't get too chilly. It's crucial to check the specifics of the type of paint you're using, because some are better suited for cold-weather painting. Sherwin-Williams, for example, has some products intended for use in temperatures as low as 35° F.
So, though summer is winding down, don't give up on the idea of rejuvenating your house with a fresh coat of paint. If you're looking for a guarantee that your paint will survive the weather and last you through the harsh winter, Arch Painting is dedicated to making sure our paint is applied perfectly. Our experts will choose the right products to keep your home beautiful, rain or shine.
Plus, during our Fall Painting Special, we'll paint your shed for free with any exterior house painting project when you book with us through September 30th. Our discounted fall rates are here, so give us a call today at 1-844-ARCH PAINTING (844-272-4724), or click here to fill out a contact form for a free estimate.