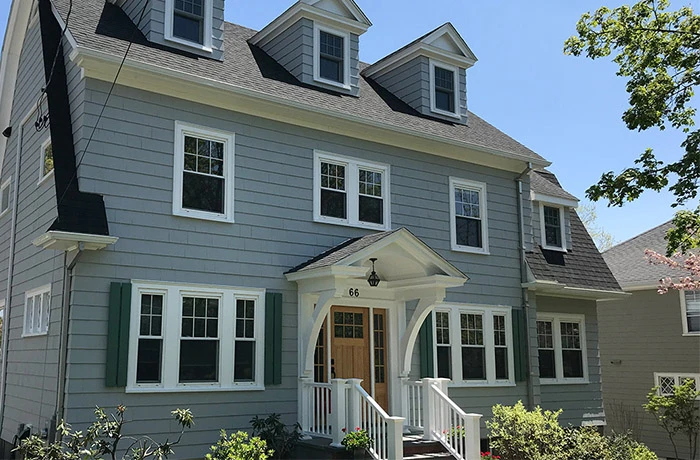 When deciding what material to use for the exterior of your house or business, vinyl siding can be tempting. It looks clean, and many believe that it requires less upkeep than wood. Wood siding, however, is a long-term investment that will pay off immediately in how beautiful your home will look. With wood siding, there are virtually limitless options in terms of appearance. Depending on the look you want for your building, you can choose board and batten, bevel, rabbeted bevel, shiplap, tongue and groove, drop channel siding, channel rustic, clapboard, cedar shingle siding, redwood shingle siding, and channel siding, just to name a few.
Then of course, there is an infinite array of paint color combinations and finishes to choose from. It is easy to update the color scheme of your building as the times change or whenever the mood strikes. You can simply call Arch Painting to throw on a new coat. With vinyl siding, the only option is to pay to have it ripped down and then re-sided. This is not only very costly, but is also time consuming. Wood siding provides greater sound and thermal insulation, and is much more environmentally friendly than vinyl. These benefits translate into money saved on heat and air-conditioning for your home or business.
Proponents of vinyl siding claim that it will outlast wood, but the truth is that with proper upkeep and fresh painting, wood can last a lifetime. Vinyl, on the other hand, frequently cracks and chips. These damages can sometimes be difficult to repair, and the seams from the repairs may still be noticeable. Vinyl also inevitably fades from sun exposure, and rather than throwing on a coat of paint, the only solution is to re-side the entire building. That's not to mention the frequent pressure washes needed to stave off mold, mildew, and grime. In the long run, wood siding can add to your property value and give your house greater resale potential.
Ultimately, wood siding with a pristine paint job provides a level of class and beauty that plastic cannot match. Although vinyl siding can be convincing from afar, the look, feel, and even smell of real wood is unparalleled. It gives your home a sense of permanence and timelessness that makes everyone feel grounded. Arch Painting can help keep your siding in prime condition so that it will last for years to come. Give us a call today at 1-844-ARCH-PAINTING (844-272-4724) or Click Here for a free estimate, and let us help you bring your vision to life.