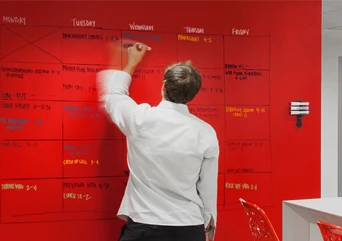 What Is White Board Wall Paint and Wall Coating?
Whiteboard and dry erase wall paint and wall coating is exactly what it sounds like-paint that allows you to safely write or draw on your walls! Just like conventional whiteboards in offices and schools, whiteboard wall paint enables you to draw on the walls (wherever the paint is applied) with dry erase markers, then easily and cleanly wipe it away. There is NO MESS!
Get creative and productive with Arch Painting. Put your big ideas on the walls of your office or board room. Transform your classroom into a canvas of lesson plans, quotes, ideas, and more! Even have the kids get creative in their rooms at home with their custom artwork! It's a breeze to wipe away and start a new project over and over! If you're wanting to look into the different dry erase paint products, as there are many, start looking at this whiteboard paint designed by Writey and others that you're able to apply yourself and have a whiteboard wall in no time at all!
Available in white or in a clear coat for colored walls, our dry erase paint can be applied almost anywhere. Let your ideas flow without being limited to pen and paper or a small, messy, traditional whiteboard or chalkboard.
This new craze is available now through Arch Painting!
Looking for White Board or Dry Erase Paint for Your Office, School, or Home?
If you would like more information about our white board paint and dry erase paint products, call us at 844-272-4724 or email us at customerservice@archpainting.com. Or, Click Here to request a free estimate of your project!