Appearances matter! They say you don't get a second chance to make a good first impression, and so it is critical to make sure that you wow your potential customers from the offset. For a lot of people, the first thing they will notice about your business is the style and appearance of the building you operate from. Just like the first thing that we notice about online businesses is the look of the company's website. With that in mind, it is vital that your business looks pristine and gives off a professional vibe. This is why painting your business should be at the top of your to-do list for 2021. With that in mind, let's take a look at five of the main benefits of painting your commercial building in more detail below.
Create a good initial impression on your customers 
There is only one place to begin when it comes to the benefits of painting your business, and this is with the fact that you will be able to make sure that you create a great initial impression on potential customers. 
Think about it: if you were to walk past a building that was freshly painted and had a clean, crisp appearance, you would be impressed, wouldn't you? This would reflect positively on the company in question. Moreover, it may cause you to stop and take note of a business that you may have otherwise ignored. 
First impressions are everything in business because they can often be the most lasting. It can be difficult to shake those initial thoughts that you have had. 
Therefore, if you walk past a building and you have been wowed by the appearance of it, you instantly feel impressed by the company in question and it gives off the feeling that they act with this level of attention to detail in all areas of their business. 
Gain a competitive edge over the competition
Another reason why painting your business on a regular basis is important is because it can give you a competitive advantage over other businesses in the area. This is because painting your building on a regular basis is an excellent way of creating a distinct brand name. For example, you can select various colors that fit in with your business, ensuring you have a look that is unique. 
This is a sure-fire way of making sure that you stand out from all of the other businesses in the area, including any business that you are in competition with. 
A lot of people recommending taking color psychology into account when deciding what colors to choose for their premises. For instance, neutral shades are often associated with feelings of calmness and reliability, whereas bright and vibrant shades are connected with energy and vitality. So, it is critical to think about the sort of feelings you want to create and the brand image you want to build. 
We should point out that there are several ways that commercial painting services can boost your competitive advantage. For example, the work environment has an impact on factors such as interaction with customers, retention levels, productivity, and employee morale. 
When employees work in an environment that is positive and uplifting, they will do their best work. If you make an effort to ensure that the office or store you own is organized, clean, and regularly maintained, your employees are going to feel valued and appreciated. This can make a bigger difference than you may realize. When people feel valued, they naturally want to go the extra mile in return. They will put in their best efforts for your business, and this is another way that you can gain a competitive advantage over the competition.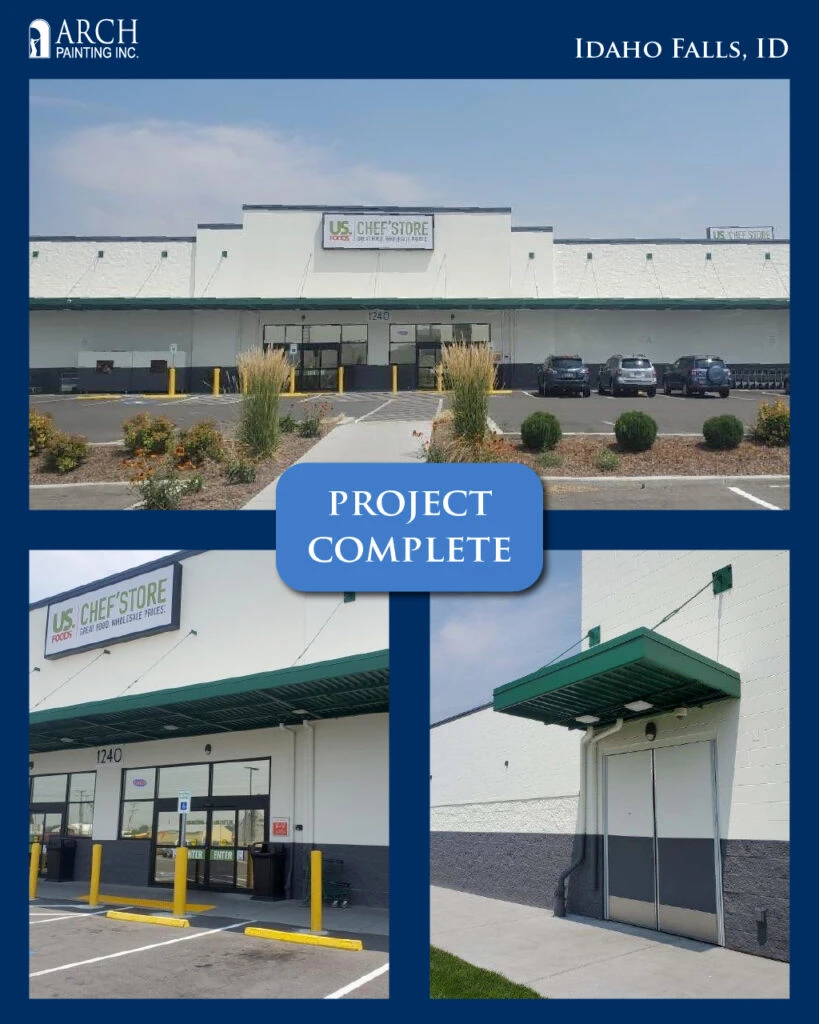 Protect the condition of your commercial property
The benefits keep on coming when it comes to commercial painting. You also need to consider the economic advantages as well. This is an area that a lot of people overlook. 
An effective paint job that is done by experienced and professional contractors can instantly enhance the appearance of your commercial space. Painting your commercial space every one or few years can consequently have an impact on how much your building is worth, helping to either maintain or enhance the value. 
For instance, think about two buildings that are identical in terms of their size and structure. If one has better aesthetics and is in better condition, it is going to fetch a higher market value when compared with the building that is not in great shape. Little things like this really can make a difference if you do decide to put your property on the market. 
Plus, painting your property can also help to maintain the condition and structural integrity of your building. There is no denying that wear and tear occur over time, especially when buildings are exposed to the elements. By keeping up with maintaining your building and ensuring protective coatings are applied, you can ensure that you boost the durability of your commercial premises. 
Ensure you adhere to any compliance requirements 
In addition to the benefits that we have mentioned so far, it is also worth considering the fact that having your commercial building painted can also make a difference when it comes to compliance requirements.
Depending on the industry that you operate in, painting various parts of your company can enable you to comply with regulations in the sector and make sure that the health and safety of your workers are prioritized. 
For example, in some work environments, maintaining line striping will make sure of an efficient and safe flow of traffic while also reducing the number of occupational accidents and boosting productivity. 
Of course, your compliance requirements are going to depend on the sort of industry that you operate in. however, if you do require a certain type of paint to ensure you are compliant, keeping this maintained is just as important as getting your property painted in the first place. After all, a lack of maintenance means a reduction in effectiveness, and when this happens it can mean that you are not in line with the rules and regulations that are in place. 
Achieve a status as an elite business 
Last but not least, you also need to factor in that painting your business can help it to be viewed as an elite company. This is especially the case if you opt for something that is modern and impressive. 
There is no denying that aesthetics is something that we all respond to. We notice how something looks, right? So, if your commercial property features an outdated and dull paint job, this is bound to end up chasing people away.
Instead, think about painting your business in a modern color palette. This is something that will set your business apart and create a positive impression. It will show you as a professional business with an elite standing, and isn't this what we all want for our businesses?
The last thing you want to be seen as is an outdated business that does not put a lot of time, care, and attention into the way things are run. However, this is the sort of negative connotation that your brand is going to give off if you do not spend time on the appearance and aesthetics of your building.
Spending a little bit of money on making sure that your business looks great can go a very long way when it comes to your brand status and the impression that potential customers have of you. It is not just about potential customers either, it is also about retaining your current customers. 
Final words on 5 reasons painting your business is a smart move 
So there you have it: five compelling reasons why you should consider painting your commercial building in 2021. By painting your business in a sleek and professional manner, it helps to boost your brand image, ensuring that you give off that all-important sophisticated vibe. Otherwise, it will look like you do not really care about your business and people may assume that this is something that stems into other areas of your company as well. 
Of course, it must be said that to unlock all of the benefits that we have discussed, you are going to need to choose a painting company with care, so make sure you take the time and effort to narrow down your search effectively. Take the time to choose painting contractors that are experienced and have a great reputation in the industry. You can read reviews that have been left by others while also checking out their portfolio and case studies so you can see some of the paint jobs that they have done before. Choose wisely and you can be sure of all of the benefits mentioned above.