Epoxy flooring and epoxy striping are aspects of a warehouse (and similar workplaces) that are extremely popular. They provide not only practical and functional benefits, but also improve the aesthetics a little. Whenever you enter these kinds of establishments, you will often encounter epoxy flooring without even realizing it. In this post, we're going to run through what epoxy floor striping is, the benefits, and why it is seen as so important. 
What Exact Is Epoxy Floor Striping?
We'll start off by answering the simplest question. Epoxy floor striping is quite literally the act of applying epoxy paint to a warehouse floor without concrete preparation taking place. Warehouses are vast spaces and need to be organized well if you want efficiency and productivity to thrive. Without solid organization, the entire space can be seen as nothing other than wasted potential. 
 Creating organization lines for a warehouse might seem like an easy enough task, but if you don't use the correct equipment and materials, you may find yourself frustrated by the lack of quality. Employees may end up struggling to navigate through the next task due to faded lines that need to be amended. This could then lead to more confusion and a snowball effect could ensue. 
 The best solution, therefore, is to bring in epoxy floor striping. It'll organize the flooring and look pretty good in doing so. Let's have a little chat about the pros of this paint and the practice of striping.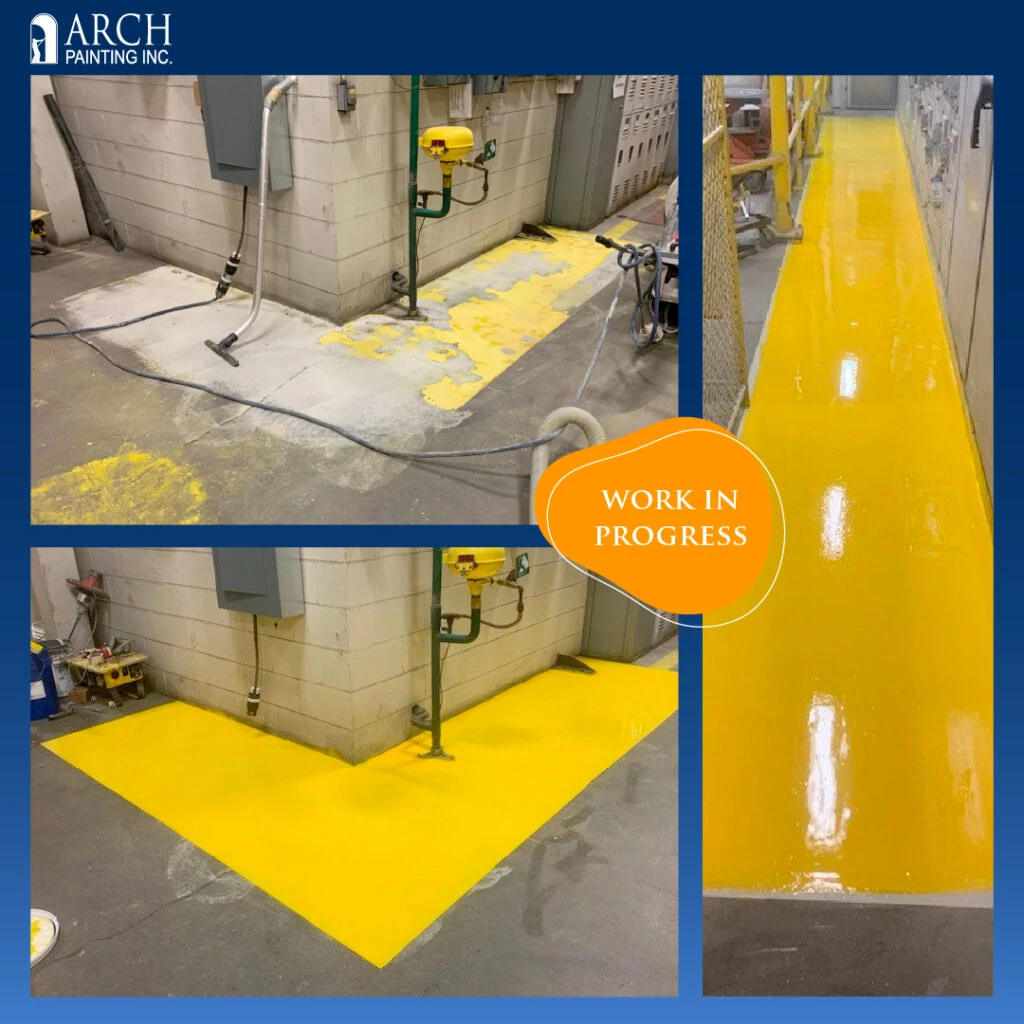 True Benefits Of Epoxy Floor Striping
It's Long-Lasting 
If you're hoping for little maintenance and a lot of longevity, then epoxy can be used perfectly for around three years at the very least. You might even get a good five years out of it if things fall in your favour. If you want the longest-lasting lines, you can utilize 'shot blasting'. With this, a thin layer of concrete is removed where the lines will be created. Once the epoxy is thrown on, the paint and the floor will be at an even level – meaning it will be harder for the paint to chip away. This isn't an overly necessary technique as epoxy is very resilient anyway, but it's great if you're always looking for marginal gains. 
If you need to change up the lines in any kind of way at some point, epoxy lines can be removed and matched to the color of the floor. 
It's Heavy-Duty
Epoxy floor striping is immune to the heaviest of weights and the most heavy-duty of occasions. It is durable and resilient when it comes to the likes of forklift traffic and other vehicles. Forklifts are utilized so much in warehouses, so you can expect them to be a huge part of the daily running. The flooring can take quite the beating from these vehicles. 
Even the likes of smaller forklifts can do all sorts of damage to a warehouse floor. It may look as though they'll only tickle the surface, but consistent work will cause plenty of wear and tear. When it rolls over the epoxy flooring paint, you'll find that it can stand up to it and behave like you'd hope it should. Other similar kinds of paint will be bullied and removed pretty quickly.
Easy To Maintain And Clean Up
The epoxy warehouse striping is pretty simple to maintain and clean up. You may not think so initially as it's such a strong and significant substance. You'll be pleasantly surprised, though. The epoxy lines are hard to remove, of course. That, and they have epoxy sealant all over the entire concrete warehouse floor. This makes the cleaning job a lot simpler for those involved as polishing and cleaning the floor won't need to be thorough. Bringing in expensive, specialist equipment is also not going to be necessary all of the time.
Cleaning the epoxy is so easy that only a mild detergent and a soft mop are necessary to clean the entire surface. It's wise to avoid using harsh cleaning, hot water, and hard bristles if you want the best results. 
It Allows For Better Organization
Epoxy striping creates better organization in the working area. Well-organized warehouses make time more productive – this will then lead to more money being made and an overall healthier environment. Productivity and efficiency are boosted when you have the right kind of flooring and the right kind of organization. The floor striping will do wonders as it will properly show the correct aisles and traffic lanes. Employees will be able to understand better how things are supposed to operate and it just makes the entire machine flow that much better. 
Safety In The Workplace Is Improved
Believe it or not, the epoxy striping will improve safety for the warehouse you're working in. When areas are properly identified, it allows those working to better understand how traffic flows and where safety hazards are at that time. Using common color coding techniques, you can show areas that should be veered away from or approached with caution. This kind of visual communication will not only help to boost efficiency but could really save people's health going forward. It could even stop someone from being seriously damaged during the working day.
The Appearance Is Enhanced And Defects Are Covered
While it is brilliant at the job it is required to do, it also has passive traits alongside that make it an even better product. It takes what might be quite a bland and boring-looking place, and turns it into something a little easier on the eyes. If you ever needed to spruce up your place of work, the epoxy striping would be a fantastic option. It brings fresh and youthful looks. Any business owner will tell you that impressing with aesthetics matters quite a lot. It also covers prior defects that may have been created over time.
There are plenty of different designs and colour options around, so you will have an array of different designs and color options at your disposal. You'll get to pick the style that suits your workplace the best. Decorative options can be added to the mixture in order to create a speckled look that not only increases the aesthetic value but improves the traction. 
It's Eco-Friendly!
Epoxy striping is a chemical compound, but it is an eco-friendly option because it only requires a few materials and will not need to be constantly replaced. There are significant benefits environmentally here as there is a big reduction in materials and machinery. Other flooring installations will need to require saws for tiles, wood for certain other aspects, and all kinds of other machines. Epoxy flooring will need a lot of work for the initial roll-out, but it's so much less than other methods of flooring.
Due to the durability and the longevity of epoxy flooring, the number of materials and the work that goes into it is way below others. Resources are only used when absolutely necessary. If your company is very green or you have your own eco-friendly motives, then epoxy is a marvelous option for this kind of initiative. 
Finally, It's Cost-Effective
When looking for new flooring to improve efficiency or the looks, you might end up paying a lot of money. Removing the current flooring, buying new tiles, etc., and dealing with additional costs are three things that you don't want hanging over you – and that's just three points. When you work with epoxy and then work with the striping, your current flooring doesn't even need to come out. This spares so much time, money, effort, and stress. The idea of revamping always seems like an expensive and extravagant one – it doesn't always have to be this way.
We've talked about looks previously, but if you're looking for a flooring that is going to really boost the aesthetics while not costing you all that much money in comparison to others, then this might be a no-brainer. The installation here will require a few coats with drying time sitting in between, but this will always be so much better than most other options financially. If you run into any trouble regarding repairs or flaws, then the treatment options are also pretty affordable.
Investing in professional installations here will be value for money; the epoxy flooring stays around for a significantly long time – as we've already covered. Professionals will know what they're doing from start to finish and will complete it all without error. Doing these kinds of things yourself will likely result in flaws and poor practices. This will then need to be amended – which will, of course, cost more.
Could You Argue Any Disadvantages Regarding Epoxy Flooring?
As we've gone through the good aspects of epoxy flooring – and there are plenty of those – it's only fair that we approach from a different angle. Getting the full story and hearing both sides will help you to understand even more and get an even better view. 
Epoxy floors will be rock hard and create a loud noise when doing basic tasks such as walking. While they're perfect for a warehouse-style environment, they will likely be exclusively used for such. The likes of office spaces and homes will not be appropriate. This is fine, however, as it's what is expected. It's also a pretty cold and eerie style at times – especially without heating and underfloor heating involved. While this isn't a huge point, it's worth saying. 
Ripples can, at times, become apparent in the floor if ever there is unevenness or a significant number of cracks. This is a solid point to make as you're going to need everything to be fully even and flawless for the best installation results. 
If the floor does not have a proper finish, it will become sensitive to UV radiation. The good thing here is that a couple of coats of HIM finishing coat can help this significantly. 
What Colors Are Traditionally Used For Striping?
When it comes to choosing the right colors for your flooring, OSHA recommends colors that suit different meanings and intentions.
Yellow is the color that will designate caution in an area and will be used to mark physical hazards. Striking against, stumbling, tripping, falling over, and caught in between are all good examples of this.
When there is danger ahead, red should typically be used. This will be paired with lettering or symbols in a color that contrasts the red appropriately. A slight warning will be the color orange. This will be for when things aren't immediately going to cause trouble, but will if you continue on. Again, it will come with symbols or letters from a contrasting color to really stand out and make the point.  
A biological hazard should be shown in fluorescent orange or orange-red.
How Should One Prepare For Installation?
Before you head into the installation process, it's wise to carry out a cleaning process so that everything is ready. Epoxy floor striping can begin once everything is clear and has the green light to proceed. If you're unaware of how to prepare in terms of cleaning, you won't have to be burdened too much as professional installation companies can take care of it if you so wish.