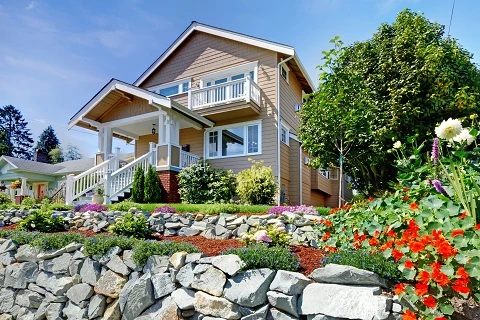 The holiday weekend is over. You've been working hard outside for months preparing for this specific weekend. The mulch is down; the lawn has been mowed (probably three or four times now); the patio furniture is out; and this weekend was the first of many great gatherings. Summer has "unofficially" begun.
Well, because you've been so busy getting your yard in shape, you may have forgotten to take a good look at the outside of your house. When was the last time you had it painted? If you can't remember or if it's been over five years, it's time to get an estimate. But, how do you start the process? How do you choose the best painting contractor for the job?
Ask people. Talk to friends, family, co-workers, or neighbors and see if they've had any great experiences with residential painting companies. (This, of course, is assuming you don't go directly to www.archpainting.com first!)
Google. Search for local exterior house painters, and take the time to review their websites and reputation. Check their Better Business Bureau ratings. Are they active in the community? How is their online presence? Have you heard of them before? Do they have proper licenses and insurance? Information is right at your fingertips. Use it!
Get estimates. Don't always go with the cheapest estimate. Talk to each contractor. Get a feel of how they interact with you and answer your questions. Make sure they make you feel comfortable and are professional. Remember, if they are busy, they are a good painting company! Don't dismiss a company if they can't get there next week.
Review the contract. Once you have picked the best painting company, look over every detail in the contract. Are the details of the project laid out exactly how you imagined it? Make sure the paint colors are correct – that seems like a no-brainer, but it's VERY important. As long as you agree with the payment/deposit terms, you are good to go!
Painting your house is a big investment, so you want to trust your painting company. Arch Painting has been Boston's top residential and commercial painting company since 1997. We don't hire part-time help – our crews are all full-time painters who love what they do. Give us a call today at 1-844-ARCH PAINTING (844-272-4724), or click here to fill out a contact form for a free estimate.
Now, go enjoy the summer, and leave the painting to Arch!