Arch Painting has begun the process of removing and preparing the Greenway Wall in Boston's Dewey Square Park for a new mural.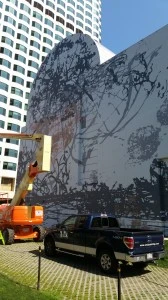 The new 70-by-76-foot temporary mural on the Rose Kennedy Greenway will be painted by artist Shinique Smith after Arch has finished scraping, cleaning, and priming the wall.
The mural will be installed over seven to ten days, September 8th–18th, and will be on view for a year.
We're proud to be involved in such an exciting project! Don't miss out on the painting of this mural and its presentation in September!
CLICK HERE to view the full story on the Rose Kennedy Greenway's website.