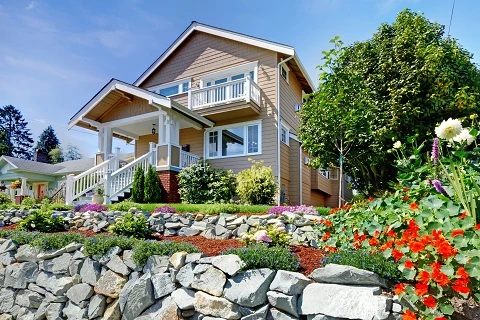 Adding color to your home doesn't have to be time consuming, expensive, or difficult. Give the interior of your house a colorful update or add some extra curb appeal this spring with these easy residential painting ideas from Arch Painting. Brightening up the exterior is usually a little more difficult though. Whilst some people might prefer to paint the outside of their home, others may opt for siding. Siding can enhance the exterior of the property, whilst also protecting it from the weather. To get some siding added to your home, it might be worth contacting a professional James Hardie installation company to see if they can suggest some of the best siding for your home. Whether you choose to paint your home or add some siding, it's likely that it will increase the value of the home either way. Additionally, we've gathered seven small house painting projects that can give your home a major refresh with minimal hassle.
1. Interior stairs
Add color and style to your home's interior by painting the stairs. Get creative and add a few rows of bright, bold stripes (like the painted stair runner pictured below), or make the staircase pop by painting just the risers – either all one color, ombre, or even a rainbow. The only limit is your imagination!
2. Mantle or fireplace
The fastest way to modernize an older house? If you have a fireplace, paint it. Or if you're not ready to commit to painting the whole thing, then start with just the mantle. Go minimalist with a sleek black finish like this one, or bring a playful element into the room with a cheerful pastel color.
3. Front door
Painting your front door a fun color is one of the fastest, easiest ways to add curb appeal to your house. If your door is dated, you could look at replacing it with a new front door design instead. But if it is in good condition, a lick of paint will bring it to life. Whether you prefer pastel hues or darker shades, this is a great way to add color to the exterior of your home – without committing to repainting the whole thing.
4. Kitchen cabinets
You don't even have to paint all of them! Paint your lower kitchen cabinets a darker color, or the upper ones a lighter color for a modern, elevated look. We especially love this navy and white color combo for those classic New England homes.
5. Bathroom vanity
Add color to a neutral bathroom by painting the vanity. Whether you prefer a rich charcoal color or the muted blue hue here, this is an easy, affordable way to instantly upgrade any bathroom in your house.
6. Headboard
No headboard, no problem! Paint one directly on the wall in a timeless, complementary color – like this bold navy blue. This is a great way to use leftover paint from a larger residential project, since just a little bit makes a big impact.
7. Bookcase interior
Another small project that has a big impact is painting the interior of a featured bookshelf (or any type of exposed shelving) in your home. This is a great way to make a simple piece of furniture look more upscale, and will highlight the items you have on display.
If you're feeling crafty, give these a try yourself! Or if you'd rather trust it to a professional, call the experts at Arch for a free estimate.