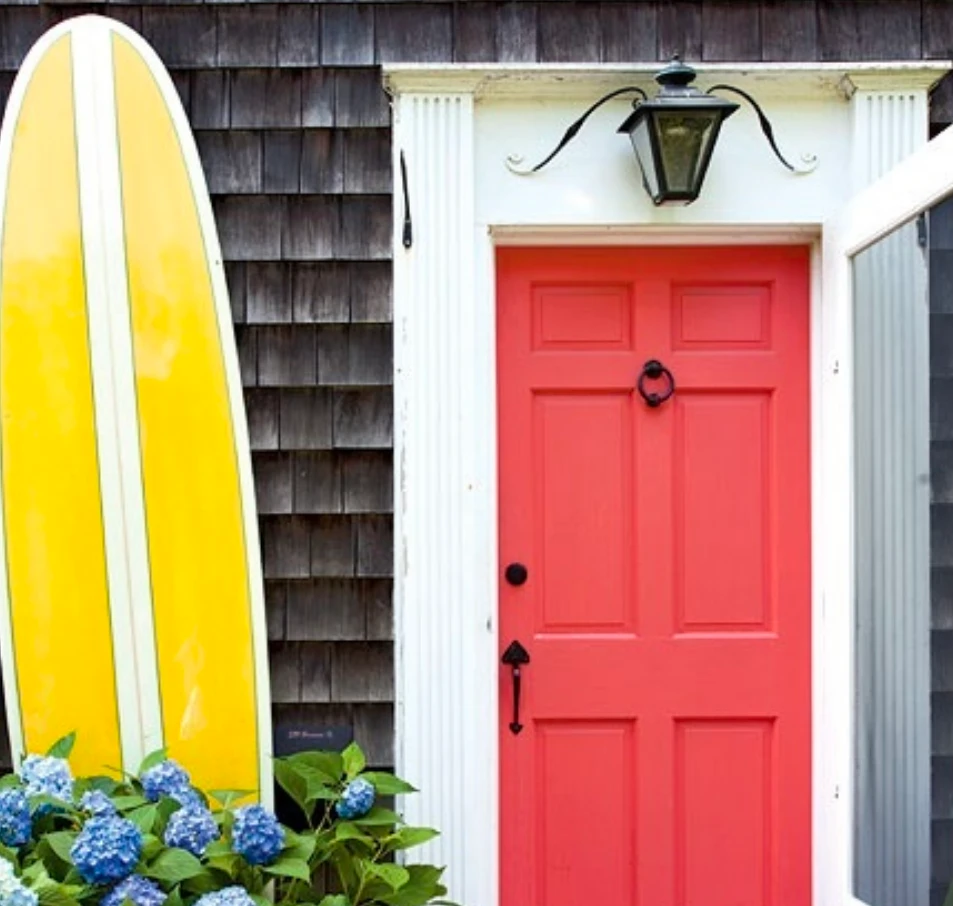 Give the interior and exterior of your house a classic New England look with these give paint colors, like navy blue and Nantucket red.
Whether you live on the South Shore or in the heart of Boston, you can make your home as "New England" looking as possible with a few coats of paint. From breezy sea foam green to neutral bright white, these paint colors will update the interior and exterior of your house.
Navy Blue
This timeless color never goes out of style. Arch Painting recommends using navy blue as an accent color in your kitchen or bathroom. The best part about navy is that it matches almost any kind of flooring (tile, hardwood, or carpet) and any color cabinets (white, grey, or wood finish).
You can find this classic color from any paint manufacturer. Two of our favorites are Salty Dog (SW 9177) from Sherwin-Williams and Old Navy (2063-10) from Benjamin Moore.
Sea Foam Green
Dreaming of days by the shore? Bring the ocean to your home, whether you live in Rhode Island or New Hampshire, with sea foam green paint. This understated tone is perfect for exterior doors, adding a pop of color to the outside of your house, and is also a soothing paint color for interior accents.
For a more neutral look, try Palladian Blue (HC-144) from Benjamin Moore, or Sherwin-Williams' Aloe (SW 6464) for a little more of a color pop.
Bright White
Along with navy, bright white is a must-have paint color for any New England home. White is a great option since it gives you a blank canvas for the rest of your décor, and the airy brightness will make it feel like summertime all year long.
Any bright, pure white will do, but we like Benjamin Moore's Snow White (2122-70) and Sherwin-Williams Bright White (SW 7006).
Nantucket Red
Deep reds on Nantucket homes faded over time, giving birth to this fun, bright pick for your New England home. This unique color isn't quite coral, and maybe it reminds you of summers on Cape Cod, Martha's Vineyard, Newport, or Nantucket. It's a bright pick for your New England home.
This musky pink look can be achieved with colors like Sherwin-Williams' Resounding Rose (SW 6318) and Benjamin Moore's Tomato Cream Sauce (2089-40).
Forest Green
A popular color choice for front doors throughout New England, this dark green also works inside. The experts at Arch recommend using this sophisticated color as an accent shade in your mudroom, dining room, or entryway.
Try Benjamin Moore's Forest Green (2047-10) and Hunt Club (SW 6468) from Sherwin-Williams.
Soft Gray
You can't go wrong with any shade of this family of gray with its slight blue undertones, common on many Cape Cod cottage exteriors. A perfect neutral for just about any space, try a lighter shade for a more subtle look or something darker if you're feeling bold.
We like Benjamin Moore's Thundercloud Gray (2124-40) for a lighter gray, and Sherwin-Williams' Morning Fog (SW 6255) for something a little darker.
Deep Red
The sky is the limit with beautiful deep reds. With shades ranging from cranberry to burgundy and beyond, you are sure to find the perfect red to fit your home. It makes a colorful addition to any neutral room – like this cheerful kitchen door that reminds us of autumn in New England.
Some of our favorite shades of this versatile color include Cranberry Cocktail (2083-20) from Benjamin Moore, or if you're looking for something with a little less pink to it, try Crabby Apple (SW 7592) from Sherwin-Williams.
Call Arch Painting and set up your free color consultation today!